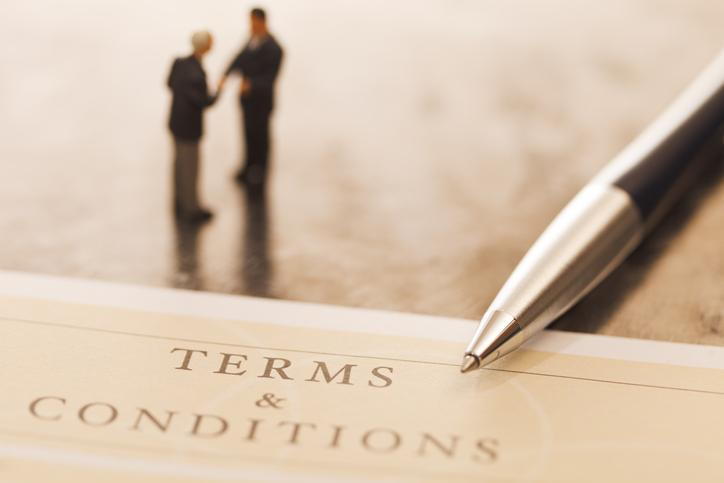 posted: Aug. 30, 2023
Todd McMurtry
As recently as 2018, just half of the country's small businesses had a website. But today, in the aftermath of pandemic-era lockdowns and closures of physical plants, around 95 percent of small businesses have some form of online identity. The internet offers powerful tools to present your products, generate revenue and provide customer service. However, taking full advantage of an internet presence requires devising new ways to deal with the public, including adoption of a terms and conditions agreement.
Also known as terms of service (TOS), a terms and conditions agreement outlines the rules governing your website or app and defines the relationship between you and your users, who implicitly agree to the terms and conditions.
The TOS should be crafted to fit the types of merchandise and services that your business offers, but certain provisions are generally advisable. Here are seven clauses that you should consider having:
Limitation of liability — You can include disclaimers designed to protect your business from being held liable for certain losses suffered by users, such as data loss, malware infections and other mishaps outside your control. You can also state a maximum amount of damages for which your company can be held liable.
User code of conduct — Any site or app that allows users to post content, such as reviews or comments, should have a code of conduct. It should also state the consequences of posting unacceptable content, such as account suspension or termination. The code can explain that you have the right, but not the obligation, to remove offensive user posts.
Governing law clause — This tells users that if they file a legal claim against you, it will be governed by the laws of the state you specify.
Intellectual property clause — This prohibits the use or distribution of your company's name, logo, domain name, trademarks or copyrights without your permission.
Payment and refund procedures — The TOS should clearly explain the payment methods you accept, the consequences of non-payment and your policy for issuing or refusing to issue refunds.
Termination clause —This reserves your right to delete a user's account if they violate the terms of service.
Cookie usage — The TOS should explain how your site or app uses cookies to track users and to provide them with relevant information. It should also explain users' rights to limit or prevent use of cookies.
There may be other clauses you'll want to include, such as one setting out a procedure for conflict resolution. A qualified business attorney can analyze your situation and draft a TOS that is best suited to your needs and objectives.
Hemmer DeFrank Wessels PLLC in Fort Mitchell, Kentucky helps clients with all aspects of setting up and running business enterprises, including drafting terms of service, privacy policies and other contracts. To arrange a meeting with one of our attorneys, call 859-344-1188 or contact us online anytime.